Circular routes Visit Luxembourg
Description
If a walk around the lake of Echternach is not enough for you, this sporty hike looks like the perfect alternative.
The hiking path starts at lake in Echternach and begins with a demanding ascent through the forest until you reach the highest point of the hike (350m, after approx. 2.5 km).
Up there, you will be rewarded with opportunities to rest. The second part of the hike then leads downhill again, back to the lake, which you circle around halfway to get back to the starting point.
Signposting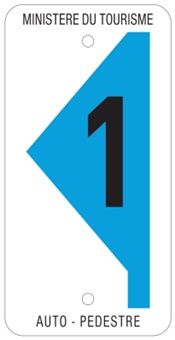 Directions
From the starting point at "P&R Millenoacht um Séi", you reach the pleasantly designed area of the entrance to the lake and climb steeply uphill to the Haard plateau along a narrow pass, where you can feel like you are in a fairy-tale forest. Apart from extreme weather conditions, Ardennes horses can often be observed working in the forest. Moving logs using horses rather than engines helps to protect the forest. If you follow the signs (blue arrow on a white background), you will soon find a shelter made of logs with a picnic bench inviting you to take a break. From the vantage point on the cliff edge, you will be able to enjoy a view over the Echternach valley with the city centre, the lake, Thoull hill and the Ernzerberg. After the demanding descent through the forest, you reach the six-hectare "Sortenbongert", (orchard meadow) created as a collaboration between the municipality of Echternach and the Nature and Forest Agency. At the beginning of the 20th century, the premises of the "Société des Eaux Minérales d'Echternach" was located where the hiking trail reconnects the lakeside path. Here the spring water from the Haard mountain was bottled and sold as mineral and medicinal water. The spring house designed in the style of a Roman temple is worth a short detour from the path. If you continue along the lakeside path, you will reach the Echternach sports hostel. This is open all year round and has a 14-met-high climbing wall and outdoor trampoline park. In the area of the "Schwarzuecht", the lake circular route meets the remains of the Roman Villa, one of the largest and richest estates of Roman Trier. The museum has a small information centre and provides a vivid and detailed picture of daily life in Roman times. Tip: From the roof terrace, you can observe the entire grounds of the Roman Villa. After a short distance, the auto-pédestre trail Echternach/Lake meets the area of the entrance to the lake again.
Equipment
Sturdy shoes and something to drink.
Journey
Public transport: Nearest bus station is: Echternach, Nonnemillen
Parking:
A parking place is located directly at the starting point.