Climbing initiation in Echternach
The sports and adventure youth hostel is located on the Echternach lake and has its own climbing wall. Initiation courses are regularly offered here for children, young people and adults. Children/young people up to 15 years included only if accompanied by a full-paying adult!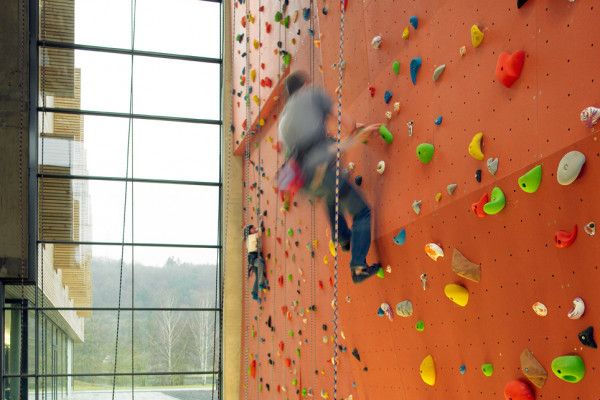 The modern climbing wall at Echternach youth hostel is 14 metres high. This makes it ideal for regular climbing courses and free climbing, whether for beginners, advanced climbers or families. Climbing equipment can also be rented on site.
Climbing initiation courses are held four times a week for adults and children. Here you learn all the essentials of the securing techniques so that you are ready for free climbing afterwards. Registrations for climbing initiation courses are required and are also a prerequisite for all beginners to be able to participate in free climbing.
Times:
Tuesday: 17.30 - 19.30 (only until 30/11/2023)
Friday: 17.30 - 19.30 (only until 30/11/2023)
Saturday: 13.30 - 15.30 & 16.00-16.00
Sunday: 14.30 - 16.30
Prices:
Adults: 23 €
Children from 9 years and students: 15 €
Children from 5-8 years: 9 €
All climbing enthusiasts from the age of 5 accompanied by a full-paying adult can take part in the climbing initiation. Every participant from the age of 9 also learns the necessary safety techniques. Children under 9 years of age must be secured by an accompanying adult. The climbing initiation is intended for people who want to have a first experience on the climbing wall and who later want to climb on their own in the hall in Echternach. Climbing is not taught during the course, only how to secure oneself using the latest techniques.
Inclusive:
Initiation courses
Climbing harness and security device
Access to the free climbing
Availabilities
04.01.2022 - 14.04.2024