Water sports discovery day in Lultzhausen 2023
Fun water sports day in Lultzhausen at the Upper Sûre lake. Guided test tours with canoe, kayak and stand-up paddle (SUP) are offered for the whole family by appointment. Food and drink on site. The youth hostel's indoor playground is also open.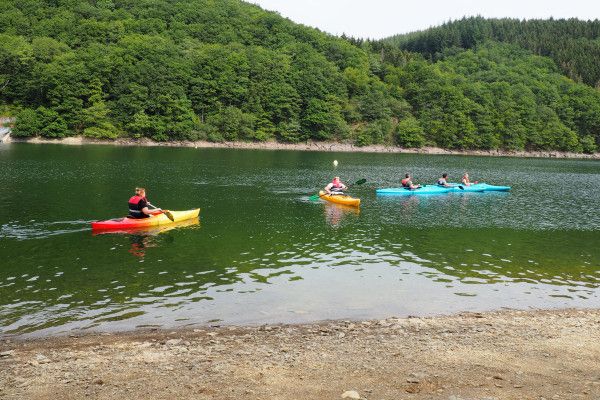 On Saturday 27 May, you can take part in guided tours with a professional guide on a SUP or canoe/kayak lasting 90 to 120 minutes. Please remember that pre-registration via the youth hostel ticket shop is required and the minimum age is 13 years.
The participation fee is €10 for young people and €15 for adults. Food and drinks will also be provided.
A day full of action and adventure on the water awaits you!
Rules:
All participants are required to wear a life jacket (provided by the youth hostel).
Participants must not be under the influence of alcohol and/or drugs.
All participants, both children and teenagers as well as adults, must be able to swim (for at least 15 minutes).
Private items can be taken onto the water at the customer's own risk and responsibility. However, the youth hostel cannot be held liable for destroyed or lost items.
Inclusive:
Guided tour
Boat and life jacket rental